Hoaf WEED-Air 50i Weed Burner - HF20000477
Item Code: HF20000477
The HOAF WeedAir 50I is a hand-operated/pedestrian burner in the HOAF WeedAir series.This burner has a working width of 500 mm and is most suited to maintain weeds on hard surfaces without the use of herbicides on paths and open areas, by using heated air.
Bottle Size
Temp °C
Width
Gas kg/h
£ 2,950.00 (£ 2,950.00 / Unit)
Product Overview
The HOAF WeedAir® 50i uses heated air to control unwanted vegetation on all types of paved and unpaved surfaces. A powerful air flow is evenly distributed under the insulated hood. By exposing the plant to this heat, the proteins in the weeds congeal and the moisture cells burst open. As a result the vegetation starts to wilt and die. .
The compact and lightweight design make the HOAF WeedAir® 50i comfortable to operate on various surfaces. The large wheels reduce the effort required to travel on pavements, kerbs and unpaved paths. The handle bar is easily adjustable with 3 height settings to suit different operators. A simple one touch ignition starts the HOAF WeedAir® 50i. The working temperature is indicated on a digital display. The rechargeable battery for the temperature sensor has a duty time of approximately 40 hours. A battery charger is included. Well isolated The burner is isolated from the vegetation, reducing the risk of fire. A stainless steel hood containing the heated air is fully enclosed and insulated all around, allowing minimal heat loss and increasing the efficiency of the fuel. The 11 kg propane gas cylinder is used on the HOAF WeedAir® 50i installed and secured with two lashing straps. The attractive optional gas bottle holder secures the gas cylinder out of sight.
Hoaf WeedAir 50i :
Gas - Liquid Propane - (gas off-take)
Capacity - 15kw Gas Consumption - 1.1kg/hour
Ignition Device - Piezo
Working width - 500mm
Weight - 40Kg
Capacity per hour - 750m² @ 1.5kmh
Warranty - 1 year
Complete with:
Adjustable gas pressure regulator.
Burner protection shield.
Treating Moss and Weeds with Heat
The life of a weed is cyclical; with many stages in its growth. One of the ways we can manage weeds is by interrupting the cycle at different stages. A burst of heat congeals the cells within the plant leaves, preventing it from photosynthesising... we can also use this technique on seeds, which are made of similar material - rendering them incapable of producing a plant. Using the method over time will lead to a great reduction in weeds on the surface.
https://kerstenuk.com/blog/Sweeping,-moss-and-weed-control/how-to-kill-a-weed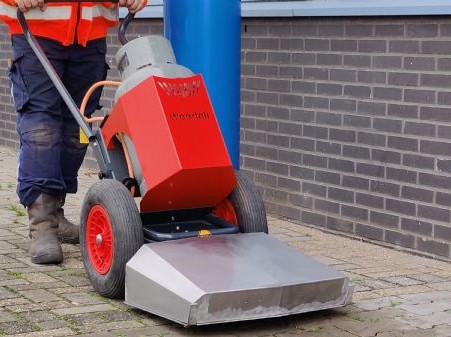 "We could be spending up to 20 hours a week removing moss and dirt from the pedestrian areas," explained John, "and it seemed nothing we did made much difference." "I was so impressed, I needed the machine there and then."
John from Tyne Valley Garden Centre