Faulkner Brothers 4x4 snow plough for 3.5 tonne pickups
Faulkner Bros Wholegoods Item Code: FB-4x4-Plough
£ 5,195.00
(£ 5,195.00 / Unit)
A Faulkner Brothers Plough has been designed from the bottom up specifically for European 4x4 vehicles. The professional Aluminium blade is easy for your truck to handle, whilst providing robust performance in winter conditions.
Product Overview
Introducing the Faulkner Brothers 4x4 Snow Plough: Your Ultimate 4x4 Plough!
Discover the unparalleled performance of our Faulkner Brothers Moldboards, expertly crafted from extruded aluminum and anodized to ensure unrivaled corrosion resistance. With our plough, you can always count on its durability, thanks to the incorporation of high-quality marine-grade stainless steel components.
Effortless Control:
Equipped with an ergonomic thumb stick controller, operating the plough has never been smoother. With just a flick of your thumb, you can easily manage all functions, including lift, lower, and precise angling both left and right. The convenience extends to the lighting kit functions, all accessible from the same user-friendly console.
Long-Lasting Blade:
Worried about frequent replacements? Fear not, as the Faulkner Brothers Plough boasts a replaceable urethane edge, designed to withstand wear and tear over extended periods. Say goodbye to frequent expenses, as this remarkable edge, similar in texture to rubber, promises lasting performance.
Quick and Tool-Free Mounting:
Say goodbye to tedious installations! Our Faulkner Brothers 4x4 Plough features an ingenious mounting system that effortlessly slides into a 50mm front receiver hitch (sold separately). With this clever setup, attaching or detaching the plough takes just minutes, and you won't need any tools. It's hassle-free, allowing you to focus on what matters most.
Ready to Use, Straight Out of the Box:
No more assembly headaches! Your Faulkner Brothers 4x4 Plough comes pre-assembled, so you can hit the ground running without any delays. Plus, for added convenience, we offer an optional wheel kit that makes moving the plough on and off your vehicle an absolute breeze.
Invest in the Faulkner Brothers Moldboards, the ultimate solution for efficient, durable, and user-friendly ploughing. Revolutionize your 4x4 experience and seize control of your winter maintenance like never before. Join countless satisfied customers who have made the smart choice and unlocked the full potential of their vehicles with Faulkner Brothers Moldboards.
4x4 Mounted Snow Plough
Blade Width - 200cm
Angled Working Width - 180cm
Blade Depth - 60cm
12v Electric drive from the carrier vehicle
Powered Electric Angling System
Heavy Duty Sprung Protection System
Weight - 115kg
Full 15cm Ground Clearance
Urethane Cutting Edge
Side Markers
65 Degree Attack Angle
2 year warranty
Compatible with a 2" Receiver Bracket
Fully Remote Electric Control from Cab
Max Snow Depth - 20cm
Wiring without Intrusion on the Vehicle Electrics
Articles about Winter Maintenance with 4x4 Vehicles
Snow Clearance
If a School or Business has to shut due to snow, it can be an extremely costly event. Keeping sites accessible for both pedestrians and vehicular traffic is crucial to retaining normality. A powered snow plough makes the job much quicker and easier than manual snow clearing, allowing you to make many more paths and parking bays available than they would be otherwise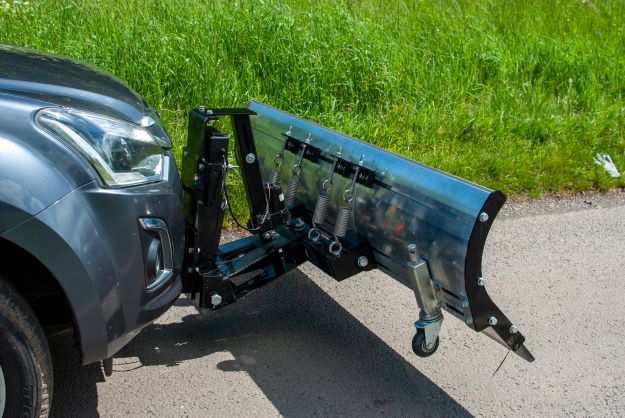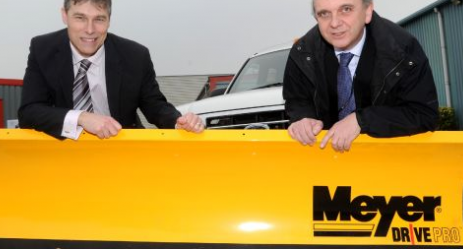 "Councillor Bob Lanzer, Leader of the Council, said: "Our staff worked extremely hard over the winter when snow twice seriously affected movement across the town." "This equipment will help us to be much more effective should we experience similar conditions in the future.""
Crawley Borough Council