Faulkner Brothers 4x4 snow plough for 3.5 tonne pickups
Faulkner Bros Wholegoods Item Code: FB-4x4-Plough
£ 5,195.00
(£ 5,195.00 / Unit)
A Faulkner Brothers Plough has been designed from the bottom up specifically for European 4x4 vehicles. The professional Aluminium blade is easy for your truck to handle, whilst providing robust performance in winter conditions.
Product Overview
Faulkner Brothers Moldboards are made from extruded aluminium and anodised for a corrosion resistance you can count on. High quality marine grade stainless steel components finish the plough to give added durability.
The Plough is controlled using an ergonomic thumb stick controller, which operates all the functions on the plough, including lift, lower, and angling left and right. The lighting kit functions are also operated from the same console.
The blade is further protected by a replaceable urethane edge, this is similar in texture to rubber, but much longer lasting - saving you money in the long run.
The Faulkner Brothers 4x4 Plough features an easy-to-use mounting system that slides into a 50mm front receiver hitch, which is sold separately. This allows you to attach/detach the plough in minutes without tools. The Faulkner Brothers 4x4 Plough comes pre-assembled so there is no assembly required and the optional wheel kit make it easy to move the plough on and off your vehicle.
4x4 Mounted Snow Plough
Blade Width - 200cm
Angled Working Width - 180cm
Blade Depth - 60cm
12v Electric drive from the carrier vehicle
Powered Electric Angling System
Heavy Duty Sprung Protection System
Weight - 115kg
Full 15cm Ground Clearance
Urethane Cutting Edge
Side Markers
65 Degree Attack Angle
2 year warranty
Compatible with a 2" Receiver Bracket
Fully Remote Electric Control from Cab
Max Snow Depth - 20cm
Wiring without Intrusion on the Vehicle Electrics
Articles about Winter Maintenance with 4x4 Vehicles
Snow Clearance
If a School or Business has to shut due to snow, it can be an extremely costly event. Keeping sites accessible for both pedestrians and vehicular traffic is crucial to retaining normality. A powered snow plough makes the job much quicker and easier than manual snow clearing, allowing you to make many more paths and parking bays available than they would be otherwise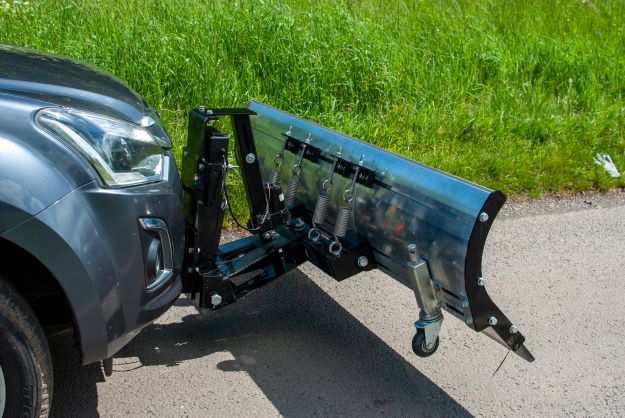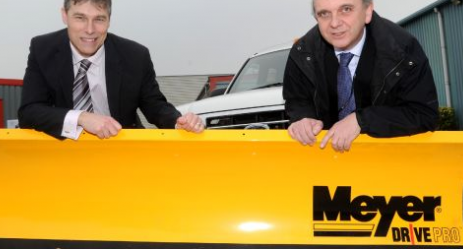 "Councillor Bob Lanzer, Leader of the Council, said: "Our staff worked extremely hard over the winter when snow twice seriously affected movement across the town." "This equipment will help us to be much more effective should we experience similar conditions in the future.""
Crawley Borough Council