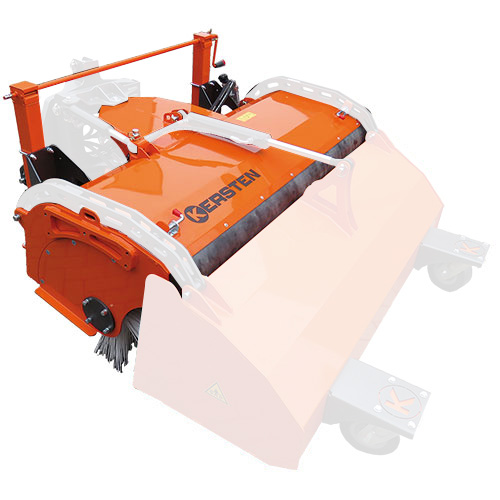 Mud on road prompts warnings
Item Code: News 42
Mud on the road won't make you popular with the neighbours!
Mud on the road is, understandably, a biproduct from a range of businesses. From farms and construction sites to haulage companies and builders yards it is inevitable that some kind of debris will end up being left behind.
Kersten equipment is best placed to help with this problem and stop you falling foul of both Highways Act 1980 and Road Traffic Act 1988 which can lead to imprisonment if not adhered to.
Farmers in Yorkshire, for example, have been warned that they must:
Be prepared to hire equipment promptly to remove deposits
Keep to their own farm roads whenever possible
Keep to low speeds and prevent mud from being deposited by removing any excess before driving on to roads
Use authorised signs positioned to give maximum visibility to road users
Clean the road as necessary during the working day and always at the end of the working day
Kersten sweepers have been specifically designed to remove soil and heavy debris on hard surfaces. This is achieved by several very important design features not typically found on other sweepers such as the 5 rows of bristles found on our sweeper brush, ability to fine tune the pressure of the brush and fantastic dexterity, allowing you to angle the brush to sweep forwards, left or right.
We have a selection of front mounted sweepers to help with this problem that can be fitted to machinery that will already be on site - there are attachments for tractors, forklifts, tele-handlers and unimogs depending on your lifting system.
Our sweepers can also be fitted with a range of accessories for making the job even easier:
Floating Collector Box
Adding our floating collector box allows you to follow the contours of the road as you sweep meaning a cleaner finish which won't damage the road surface and gives users an easy way to dispose of the debris. Perfect for soil, moss and sand.
Gully Brush
Our gully brush pulls material from the edges of the path or road in order for it to be collected by the main sweeper reducing the amount of passes needed to remove the debris.
Brush Guard
In place of a collector box a brush guard can be fitted to prevent debris being flicked into the air, with the material instead being contained close to the brush. This is extremely useful when trying to wind-row material.
Mud Scraper
Sitting ahead of the brush, our mud scraper loosens mud, soil, sand and other organic compounds to make sure you get a clean sweep first time and reduce the amount of passes required.
For more information on any Kersten articles or products, please contact us directly: Email: info@kerstenuk.com Phone: 0118 9869 253