Leaf Blower LBV 6900 mechanical (without bracket)
Kersten Wholegoods Item Code: LBV 6900-M-ABR
£ 5,065.00 (£ 5,065.00 / Piece)
The Kersten LBV 6900 M is a more powerful attachment for compact tractors and out-front mowers using Mechanical PTO. This Blower is extremely quiet and perfect for keeping paths and built up areas clear of leaves, with an output of 115m3/Min.
Product Overview
The Kersten LBV 6900 M with a noise level under 84dB is the ideal blower for clearing leaves around built up areas such as schools and holiday parks.
The LBV 6900 M is a professional tractor mounted blowers for compact and sub‐compact tractors or out-front mowers with PTO drive. The LBV has a light weight, dynamically balanced aluminium fan producing an air velocity of 230 km/h allowing even wet heavy material to be lifted from the surface and blown up to 12 meters. Very low noise is achieved with the use of inlet and outlet silencers and a one piece plastic fan housing. The resulting sound‐pressure at the ear of the operator is < 84dB allowing the use of the LBV without the need of ear protection, allowing use in more built up areas.
Easy adjustment of the air direction is possible allowing fast results even in places with restricted manoeuvrability. Large casters allow the machine to follow contours with ease and cushion the impact on all parts of the blower and tractor extending its life. The LBV can be supplied with a variety of mounting frames and PTO speeds to suit tractor front linkage or special brackets for most leading brands of upfront mowers. Allowing you to use your mower as a multifunctional tool. The Brackets allow mounting in just a few minutes, getting you on the job quicker The light weight design (at just 95kg) allows fitment to smaller tractor units.
The LBV range come with a fixed outlet chute as a standard feature. This can be replaced at purchase with a chute that can be rotated 360 degrees in order to direct the flow of air in a place of choosing . The hydraulic operation of this makes it comfortable to use from the cab. A set of double acting spool valves is required to operate this accessory.
Mechanical Drive PTO < 1000 rpm
Adjustable Caster Wheels 180 x 80 mm
Depth Adjustment with Scale
Air Flow - 115m3/min
Air Reach - 12m
Warranty - 2 year
Noise - < 84dB
Weight - 95kg
Choice of Mounting Frame
Leaf and Debris Clearance
If detritus build up is the largest threat to your surface performance (which is true for most surfaces) then leaves are potentially your biggest concern, and managing them in Autumn is no easy task! The LBV range from Kersten is helps you clear in built areas where other makes can't.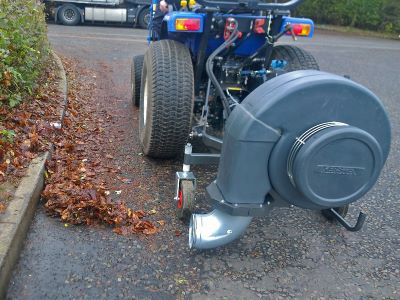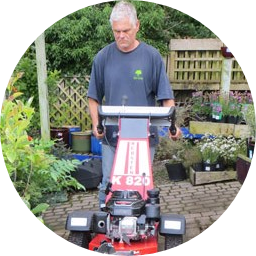 ""We could be spending up to 20 hours a week removing moss and dirt from the pedestrian areas," explained John, "and it seemed nothing we did made much difference." "I was so impressed, I needed the machine there and then.""
John from Tyne Valley Garden Centre