Convert your Mower for Winter Maintenance
Ride on Mowers can easily spend the Winter in a shed as an unused investment - but it doesn't have to be that way. Some commercial Ride On Mowers can be transformed into Winter Maintenance Vehicles
---
For Commercial Ride on Mowers, such as the Kubota GR Series, the Iseki SXG or the John Deere Gator, commonly used by contractors to maintain small sites, it can be a shame to have the machine un-utilised for much of the year.
Kersten offers a range of attachments to suit these Ride on Mowers.
Snow ploughs come in two types;
Mechanically operated snow ploughs ;
The professional mechanical snow plough system bolts straight to the Mower chassis and provides single lever operation for lifting, lowering and angling the Plough. The Plough is operated from the seat allowing you to adjust the Plough position to suit the task without leaving the vehicle.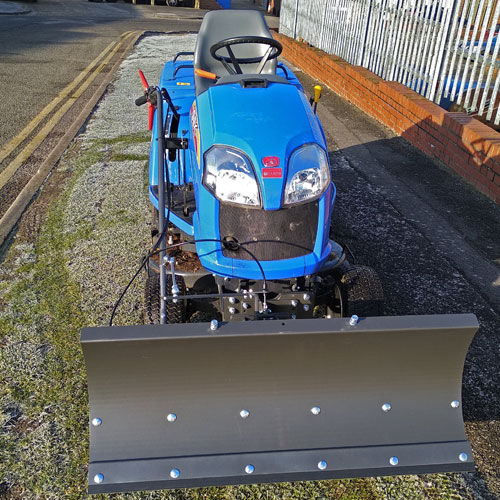 The Control Handle Features an Erganomic Design with a soft touch grip. This design alows for comfortable operation in all weathers and while using gloves or mits. The Plough itself is designed to be lightweight meaning it can be effectively mounted to a wide range of professional ride on mowers. This Plough also features a replaceable Urathane Edge which reduces wear on both the Plough and the surface meaning you can keep using your plough for longer.
Hydraulically Operated Snow Ploughs
Alternatively, the mowers can be fitted with a hydraulic pack and linkage for operating a plough. Using our FKDR Front Linkage System for Ride on Mowers this Plough can be Lifted and angled Hydraulicaly from a set of ergonomic controls that will be fitted to your machine with the FKDR linkage. This Plough also features a Spring system to reduce the potential for damage when coming into contact with large and heavy debris or kerb edges.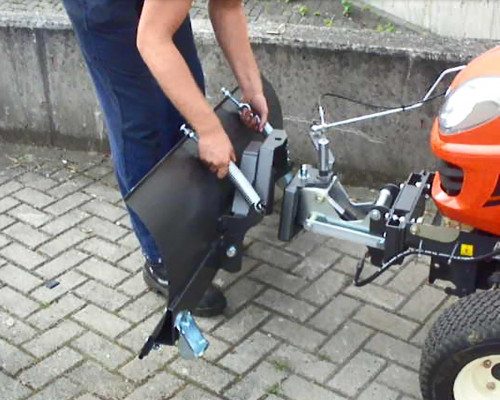 As this Plough is fitted for the FKDR Linkage System it shares a mounting system with multiple other Kersten attachments such as a Sweeper, Blower and Weedbrush turning your Ride on Mower into a true year round maintainance machine.
Hydraulically Operated Salt Spreader
The FKDR can also provide hydraulics to the rear of the mower, and with an additional bracket, you can also fit a 70l hydraulically operated salt spreader.
The SLDST 70 Powered Gritter is a professional spreader that can handle different material types, such as salt, sand and grit. The hydraulic drive allows easy operation and minimal maintenance.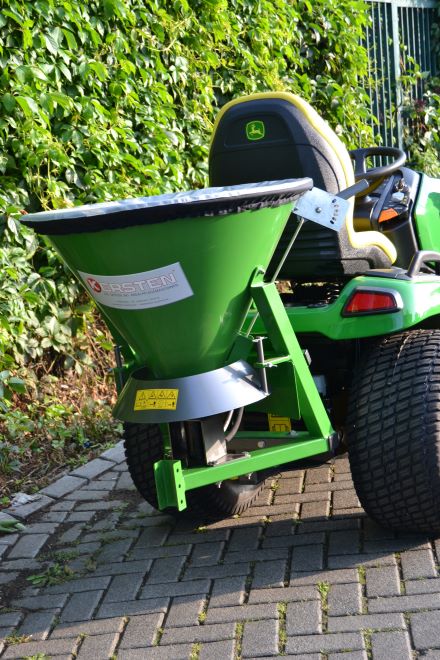 Operating the machine is as simple as one lever, the operator controls the operation from the FKDR control console.The ability to use it with your ride on mower makes it Perfect for small- to medium-sized jobs like icy walkways and long, snowy driveways.
The damp material agitator allows it to spread a more diverse range of materials more easily than other systems, getting the job done faster and with less manual intervention - giving you more time on the job and less time fixing problems.
For more attachments to suit your ride on mower, visit our Attachments for Ride on Mowers Page.
---