Case Study - Front sweeper for John Deere 1026 - Hydraulic drive from tractor
One solution for mounting a sweeper to your JD 1026......
---
The customer for this sweeper is required to maintain a site with mixed uses.
This includes mowing and sweeping carparks but this requires to be carried out with the one power unit.
This solution provides the ability of using the John Deere Quick-Tach front linkage and a mid mounted mowing deck with Auto Connect feature.
The Kersten KM45 front sweepers may be powered by either PTO or hydraulic drive. Both solutions are available on the 1026 but there are pros and cons of each.
A front PTO on the JD 1026 is driven via a shaft from the rear axle /mid mount PTO shaft. This provides a very powerful drive to the sweeper enabling heavy duty remedial tasks to be undertaken. However, the mower deck must be removed to operate it.
The hydraulic drive solution from the tractor hydraulic services provides less power for the sweeper but enough to carry out maintenance tasks. This allows the auto connect mid mounted mower to remain on the tractor.
A third option is possible using a 3 point linkage mounted hydraulic power supply operated by the tractor rear Power take off. MP-HYDR-DP
All Kersten sweepers may be fitted with a collector box and gulley brush.
This solution features a hydraulic emptying collector box together with variable brush speed.
Both operations require just one, double acting, hydraulic service from the tractor.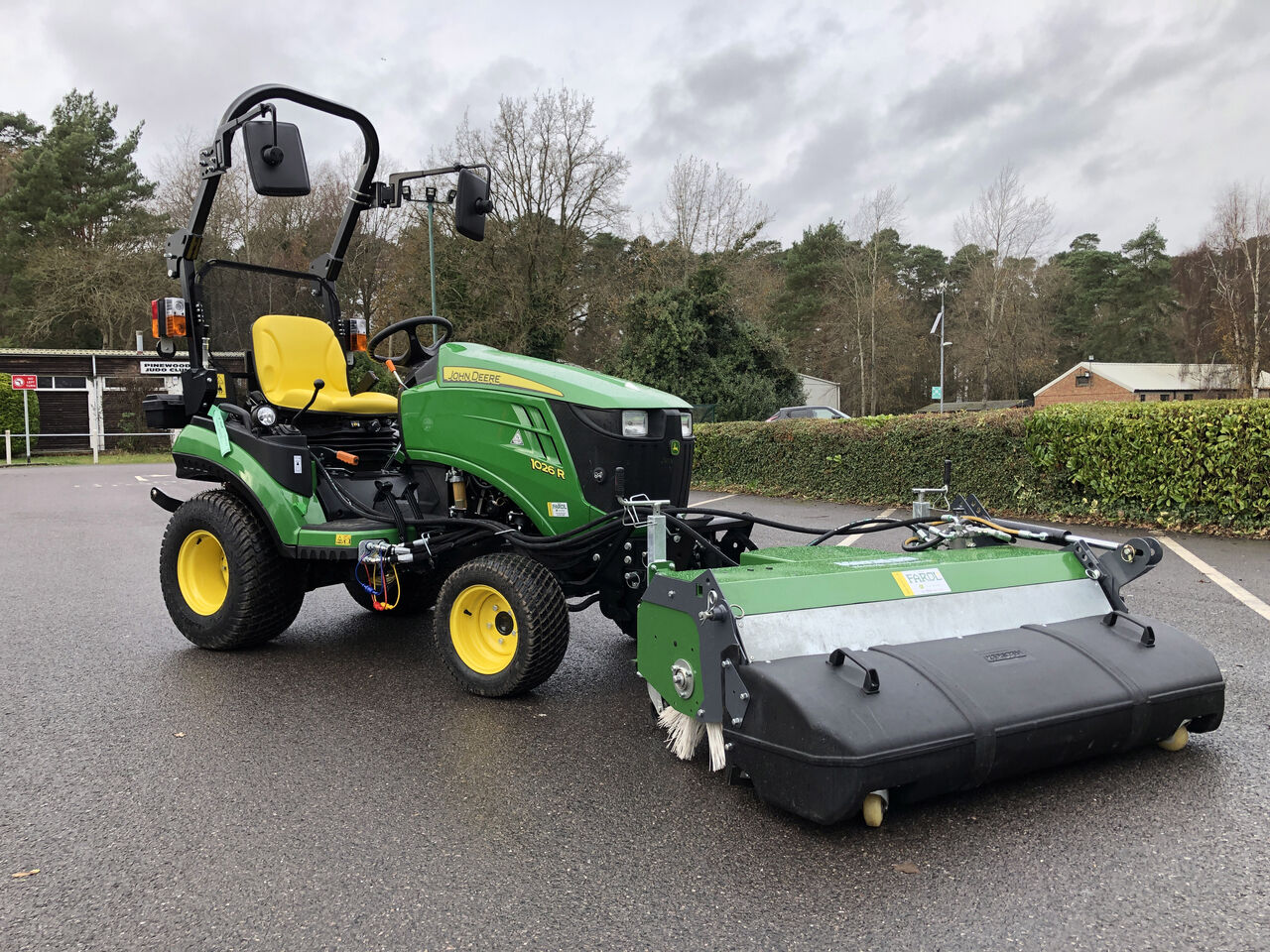 The items used in this project were as follows:
The KM 45 series of sweepers are supplied with garage stands to enable the machine to be wheeled around when not connected to the tractor.
Mounting a sweeper on the front of a tractor provides far greater maneuverability than mounting on the rear 3 point linkage.
However a rear mounted alternative for this the John Deere 1026r could be the HKM 12540 M
Kersten sweepers are great at maintaining hard surfaces by removing detritus and debris which reduces weed growth and is fundamental to Integrated weed management.
Other attachments suitable for the John Deere 1026r may be found on the John Deere 1026 attachments page.
Contact Kersten to chat about your requirements.
View the gallery for the John Deere 1026r sweeper and other similar solutions here.
---
Chris is Managing Director of Kersten UK Ltd