THE BACKPACK & LANCE WITH A DIFFERENCE
Item Code: News 30
THE BACKPACK & LANCE WITH A DIFFERENCE
The new RIPAGREEN range from Kersten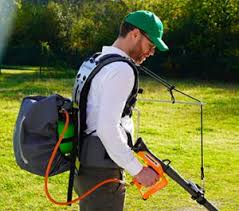 The RIPAGREEN Mobility Kit is a direct replacement for the nap sack sprayer - without the chemicals.  
With a lighter burden on your back, more comfort and able to be used in a greater range of weathers.
The NEW Mobility Kit has a patented ergonomic harness, making work considerably easier and ensuring comfort to the operator.
It does this by;
Carrying a propane tank which gives the operator true mobility during use
A rotating support arm capable of 180 degrees of sweeping motion allowing the user to operate the Mini-Thermal Lance with one hand.
Adjustable pneumatic back support to promote comfort, posture and reduce fatigue.
Using adjustable bungee cables from the support arm to the Mini-Thermal Lance allowing the user to change application angle and height at will.
 The Ripagreen Mobility Kit can be used in conjunction with the Easy Kit Mobile Cart, allowing a larger amount of gas to easily be transported. This enables the user to control much larger areas of weed and vegetation growth at a time.
Because this method uses hot air to burst the cells in the plant - there is no problem using it in wet conditions. In fact, the water even helps conduct the heat.  
Speak to our sales team today to discuss the models available.
More information about the RIPAGREEN can be found here

View the RIPAGREEN catalogue here
Retail from £1995.00 + VAT
Contact us on email; info@kerstenuk.com
or by phone; 0118 9869 253