The 3 biggest threats to surface performance
Item Code: News 25
THE 3 BIGGEST THREATS
TO YOUR SURFACE?
Kersten launches "The Surface Maintenance Handbook"
This comprehensive handbook will be your year round companion
to surface maintenance. It outlines the 3 biggest threats to your
surfaces and exactly what you can do to tackle them.
Over the last 15 years we have been asked to develop solutions for maintaining all kinds of surfaces, with many different challenges. Some of the surfaces we come across are new, while others were thought to be beyond redemption. As a result of our experience, we have compiled a vast amount of knowledge and developed methodologies for keeping all these surfaces performing at their best.
This book is designed to be your year-round companion for all the outdoor surfaces under your care... whether you look after a school, a park, sports centre or country estate; this handbook will be an invaluable resource for keeping it all working throughout the year.
When it comes to surface maintenance – our philosophy is that "Prevention is always better than cure!" So we show you what the key performance properties of each surface are and the 3 biggest threats to their performance .
Tackling these threats is crucial to keeping the surface performing at its best, and is the cornerstone of our approach to site maintenance. This approach allows you to prevent deterioration before it occurs, by treating the root cause of the problems, not just the symptoms, such as weeds, flooding and physical damage.
But never fear – if your surfaces have already succumbed to these threats and the moss or weeds have taken over, this book will also show you what must be done to cure the problem and get the surface performing well again.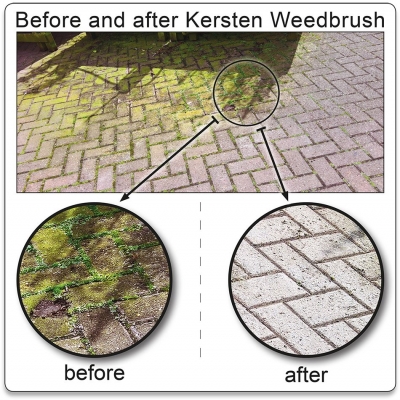 There are several reasons for the undesirability of weeds in these areas. Weeds can cause damage to the hard surfaces by breaking up asphalt and the edge of the road seal or enlarging cracks and thereby shortening their lifetimes (Holgersen, 1994; Zwerger et al., 2000). So prevention should be an absolute priority.
Hard copies can be requested through the office.
contact us on email; info@kerstenuk.com
or by phone; 0118 9869 253