Rough Cutter RCH 18100 G-E
Kersten Wholegoods Item Code: RCH 18100 G-E
£ 14,650.00
(£ 14,650.00 / Piece)
The Roughcutter is a Professional Flail Mower for dense grass and vegetation mowing, combining power and simple controls for an effortless mowing experience. The RCH 18100 G-E is great for wider areas and banks.
Vibration
Slope
Power
Drive
Product Overview
The Rough Cutter RCH 18100 G is a compact, but robust flail mower which combines Low vibration, low noise and high output - Resulting in superb operator comfort. The Roughcutter is a heavy duty flail mower for cutting grass and dense vegetation up to 50mm in diameter. Hydraulic drive, with infinitely variable speed in forwards and reverse allows for really simple fingertip control of the machine. The Roughcutter is built with the operator in mind, with adjustable vibration dampened handlebars for maximum comfort. The height of cut can be easily adjusted in 4 positions to suit different areas of operation and the type of cut can be changed, with different blades available for rough cutting and fine grass cutting.
The integrated differential lock means the machine can cope with very difficult and slippery terrain without struggling for grip. Different tyre options enhance this further. Heavy duty, Puncture-proof front wheels allow you to cope with difficult veg-etation like brambles without worrying over punctures. This allows reliable and simple cutting, even on banks up to 30 degrees.
The machines in the Roughcutter range can all be fitted with a full width rear roller to support the mower and give a traditional striped finish on finer grass. The roller gives the mower more support over uneven ground to prevent the blades from cutting into the soil, which can be detrimental to both the landscape and the mower.
18HP Briggs Vanguard petrol engine
Fuel Tank Capacity: 8.5 Litres
4 level adjustable cutting height
Weight; 280kg
Oil Automatic Shutoff
1000mm cutting width
0-6km/ h speed
Max angle 30 degrees
5.00 - 10 Field Profile Wheels
Hydro Pro Zero-turn Steering
Hand-Arm-vibration: < 2,5 m/s2
Adjustable Control Panel for Easy Operation
Hollow Chamber front wheels (260 x 85)
Electric start
Operator Hours Counter
Operator Presence Control
Transport Loops
Long Grass and Dense Vegetation
Some areas of your site are probably covered by fast growing vegetation such as nettes, brambles, thistles and other weeds. These weeds cannot usually be tackled by an ordinary mower. Depending upon the size of the area you are trying to tackle, these can be dealt with using strimmers, or on larger areas a Flail mower. When using a Flail it is important to determine the Finish that you require. Boot type blades will typically deal with heavier materialsuch as saplings and woody plants. However the finish will usually be better on grass with Y type Flails.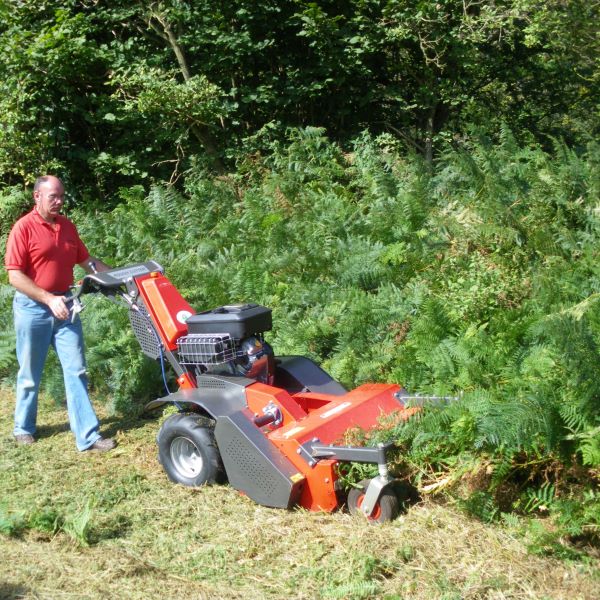 ""We could be spending up to 20 hours a week removing moss and dirt from the pedestrian areas," explained John, "and it seemed nothing we did made much difference." "I was so impressed, I needed the machine there and then.""
Tyne Valley Garden Centre