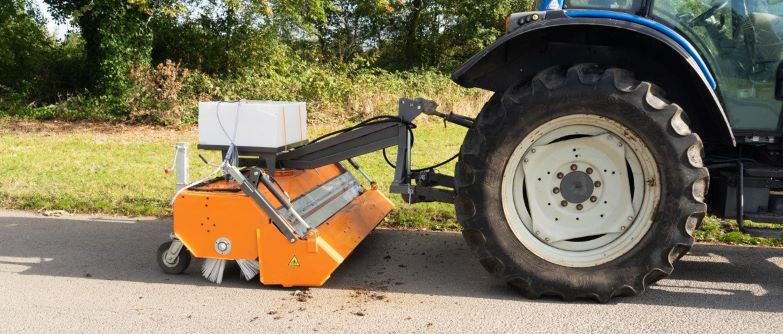 Kersten Rear Mounted Sweepers for Tractors 70-130hp
This is our Larger mid‐size range of professional, heavy duty sweepers with hydraulic drive and manual angling. The Mounting frame gives incredible support to the sweeper with the weight going through the sweeper from the top where it is strongest.
The KM 60 range sport even more robust construction techniques than our KM50 sweepers, Front Mounted Sweeper 270cm Width with CNC folded and welded, heavy gauge steel. An inboard variable speed hydraulic drive motor, with constant tension duplex drive chain allows greater power to the brush and negates chain slippage.
The pendulum suspension system protects the sweeper and carrier from damage over rough ground. Our Ø 60cm, five row combi brush moves large, heavy debris with ease. Sweeping height is finely adjusted by heavy duty gauge wheels—each wheel is adjusted individually for precise positioning of the brush. Suitable for Front and Rear 3 point linkage, Front Loaders, Telehandlers and large Forklift trucks.