Top 5 Digital Marketing Strategies to Help Grow your Business
In this blog we look at marketing advice for SMEs and what they can do to make more of an impact in the digital world.
---
Top 5 digital marketing strategies to help grow a groundcare or landscaping business.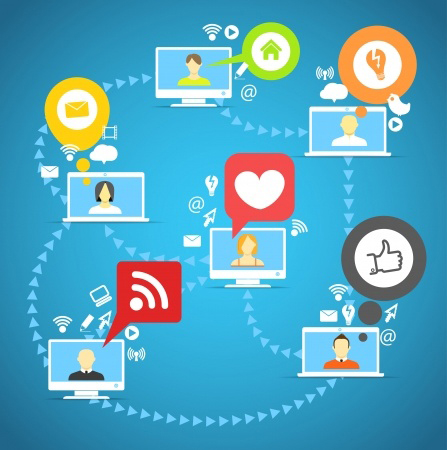 Image courtesy of digifellow.com
A lot of people in the industries we deal with are still heavily reliant on traditional marketing - we've all seen the signs with phone numbers strapped to traffic lights! More and more people are using the internet as their first, and only, port of call when looking for a tradesman or business to complete a job. Having a digital marketing plan can help you create more leads and build a larger client base.
Below you'll find five easy ways to help set up some form of digital marketing for your business.
Setting up a Website
For most businesses a website is their new shopfront. Not only will customers be using your website to contact you by more traditional methods like your landline, but they'll also be using it to compare you with competitors. An eye catching and easy to navigate website will attract customers because they will see you as established and credible.
Simplicity is key - good website design will make your website easy to navigate with concise information which will lead visitors to getting in touch with you or making a purchase. Something important to consider is also how often people are using mobile devices like tablets and mobile phones to access your site - optimising it for these is easy and will make the user experience more enjoyable.
Search Engine Optimisation (SEO)
SEO is a term that digital marketers throw around frequently. It is the key to getting more visitors to your website for less money. Visitors who easily find your website on Google without clicking an advert are known as organic visitors (or traffic) - organic traffic is the secret sauce for any website.
Having relevant articles and content on your website will help boost it up the Google rankings and make it more likely that your site will be featured near the top of the search results page. And the bonus? You can do this for free. Creating a blog with relevant content is straightforward to do and when other sites start linking to your content it will send you even higher up the rankings!
Social Media Marketing
Potential customers more than ever are looking to social media in order to find local businesses that can solve a problem for them. The bonus of social media is that word of mouth is amplified here - previous customers who have had a good experience with your business can tag you in posts where people are asking for recommendations.
Lots of people in the industry set up a social media account thinking it is the silver bullet solution to having the phone ringing off the hook. The issue for most of us is that social media is now a pay to play arena and without boosted posts and paid advertisements, we are often shouting into the abyss with our messages. To really expand your following it's often a good idea to look into having some sort of paid advertising. Big brands like adidas and Nike now exclusively post paid content on their social media channels.
Video Marketing
Videos are consumed far more thoroughly than other content on the internet. You can take advantage of video to market your business in several ways. Educational videos, product promotions, webinars, tutorials and behind the scenes videos will all help your customer base engage with you both on social media and via your website.
Short videos of projects like timelapses or a before and after of completed products will give customers the confidence that you're a reputable company. In addition to that, you can post a single video in many different locations to really leverage its impact.
Content Marketing
Companies that blog consistently often have their articles linked by other websites which improves their standing with Google. Providing well researched and knowledgeable content is important as more people will visit your website and it will help cement your standing within your particular business sector.
One of the key ways to do this is to help solve people's problems. When someone is searching for a solution to a problem, you want to help them find the articles on your website, get them to have a read and ultimately lead to more business coming your way.
Create a Digital Marketing Plan for your Landscaping Business
If you keep these five tips in mind it will help you move from simply having a Facebook page with a few followers to becoming someone who's seen as reputable within the industry and help grow your business. If all this seems a bit much, local authorities often have free initiatives in place to give SMEs a boost when it comes to marketing and promotion.
Kersten UK offer a range of products and services including being the stockists of Kersten, Ripagreen, Meyer and Hoaf in the UK. If you need help with winter maintenance, weed management, moss removal or artificial surface maintenance, please get in touch!
---