Case Study: Weedbrush for John Deere X series Ride on Mower
The FKDR allows yout Ride on Mower to carry out weed brushing tasks.
---
Weed Brushing is an important task - it allows us to remove the build up of soil and weeds along walls and kerb edges quickly and easily, as well as edging overgrown paths, bordered by a verge each side.
In this instance we fitted the weedbrush to a John Deere X590, but it will also fit onto other John Deere X300-500 series models, as well as the Kubota GR Series and the Iseki SXG216.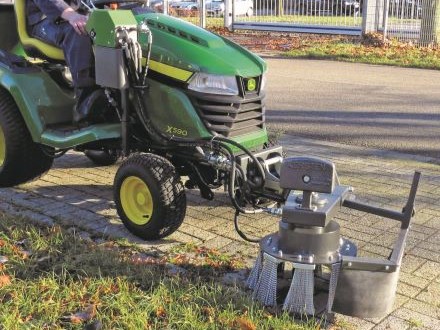 A similar brush is often fitted to our pedestrian machines. The advantage of this ride on mower mounted version, is that productivity is increased due to less operator fatigue. However, you do sacrifice some manouverability, so it is a solution best suited to kerbs and path edges, rather than around street furniture or other areas that need the additional dexterity achieved by utilising a walk behind machine.
The brush angle and height can be adjusted manually on the attachment, allowing the operator to account for different surface types, cambers and brush wear.
The FKDR linkage allows the brush to be lifted, lowered and engaged from the seat using the simple dashboard.
Ride on mowers do not usually come fitted with a hydraulic supply for attachments, the FKDR Overcomes this with it's own reservoir and pump.
The brush can be disconnected from the front linkage in a matter of a few seconds, allowing the mower to be freed up for other tasks.
The mower could also be fitted with a blower, sweeper and winter maintenance equipment.
The Items used in this project were;
FKDR-HYDR-JDX500 (Front Linkage and hydraulics Pack)
WKB-H_FKDR (Hydraulically driven Weed Brush with guard)
For more information on attachments for Ride On Mowers, check out our Ride on Mower Attachments Page
---