Maintaining synthetic sports surfaces with Kersten sweepers
How can a Kersten machine help to maintain artificial surfaces?
---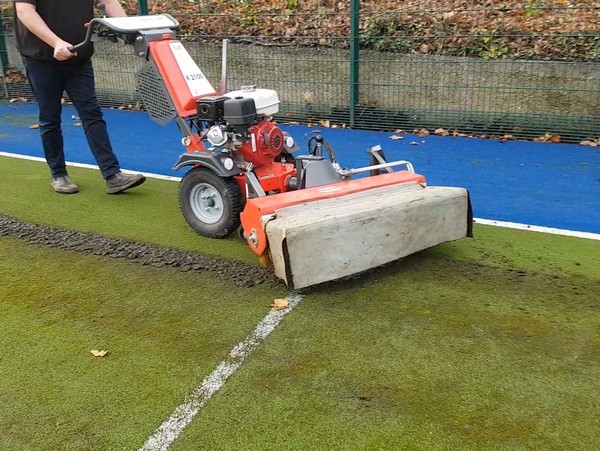 All outdoor surfaces will have debris settle on them either dropped by vegetation growing on or around them or by birds and other animals or simply carried on the wind or rain.
Fences and hedges around sports surfaces act as filters. the higher and more dense the fence or hedge, the more material is caught. The also cause and provide shade.
Some fences and hedges keep material out as the wind and rain blows through them, some catch material blown in the air and in water and drop it on to the sports surface - depending on the aspect and wind direction.
Real grass and organic surfaces, thrive from this natural phenomenon because dust and debris deposits can simply decompose increasing the soil nutrients and depth as a compost and naturally increasing fertility and water retention qualities.
However, one thing you do not want on an artificial surface is organic material decomposing and providing a layer of soil naturally increasing the water retention and fertility of your surface.
After having invested £1000's on your sports surface, you might give a quick thought to how you are going to prevent nature, or at least postpone nature, from reverting your artificial surface back to its natural state.
Regular maintenance required by an artificial sports surface include trimming hedges, sweeping the surfaces, especially around the perimeter fences, keeping drainage clean* and ensuring the access to and from the facility is kept clean to reduce the debris "walked" on to the surface.
This video shows a tennis court slowly succumbing to the natural deterioration process.
Sweeping the surface and removing the debris is not only functionally desirable for the players it is prolonging the terrific investment which was made initially.
Failure to maintain sports surfaces saves cash in the short term but has terrific long term hidden costs.
The carbon footprint attached to constructing an artificial sports surface, only to let nature reclaim it again due to lack of consideration to maintenance may be considered irresponsible at best.
The Kersten K series is a range of versatile hydraulic two wheel tractor which will probably exceed your expectations in its design, durability and operation.
Finger tip control with fine adjustments for transmission speed and implement speed.
The Quick-Attach implements are designed to be effective and versatile.
The powered sweepers may be finely adjusted in so many ways to suit a multiplicity of applications including moss removal, fine dust collection and turf sweeping.
The side gulley brush can dramatically improve the appearance of any site and cleans the all important perimeter fence or kerb edge.
All Kersten sweepers are able to be fitted with a collection system for removal of the debris.
Kersten sweepers are light and nimble machines to operate for regular maintenance of artificial sports surfaces but are robust and versatile enough to undertake heavy duty, cost effective remedial solutions when required.
Find out more about this solution and other sweeping machines at our website kerstenuk.com
All Kersten products are built to provide a long and useful life in commercial work conditions.
*includes drainage designed to take away water falling on the surface from above as well as drainage designed to prevent water from washing on to the surface from outside.
Artificial sports surfaces, whether they are used for athletics, bowls, bowling greens, cricket, cricket nets, football, 5-a-side, 7-a-side, hockey, netball, rugby, or tennis they all suffer from the same problems as hard surfaces, with the build-up of organic debris and detritus which cause moss, algae and weeds due to the reduction of drainage in the surface.
If these surfaces are not swept regularly, the materials breakdown, block the drainage and promote moss and algae. A Kersten sweeper will provide a superb solution for preventing and restoring these artificial or synthetic surfaces. The Kersten sweeper can be either pedestrian or tractor mounted attachment fitted with a rear three point linkage or by a front linkage. Kersten provide front linkages for Kubota, John Deere, New Holland or Stiga.
---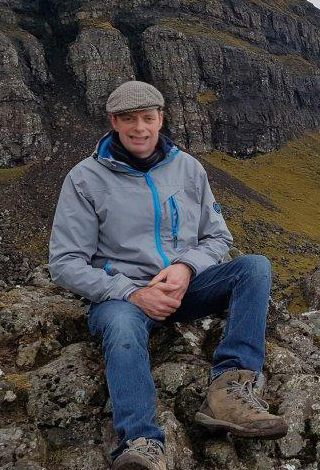 Chris is Managing Director of Kersten UK Ltd Interested in weed control solutions and machinery