Eco Weedkiller Hot Water Weed Control Products
Kersten UK has been appointed as the UK distributor for Eco Weedkiller - Hot Water weed control Products.
---
Kersten UK has been appointed as the distributor in the UK for the new Eco Weedkiller Products from Finland.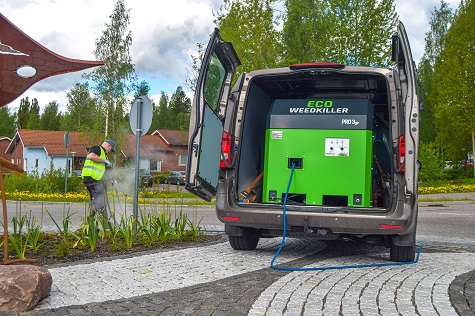 Eco Weedkiller offers new technology for weed control based on hot water. The water is heated via electricity and then kept warm in an insulated tank. The device will keep its warmth (more than 100 degrees Celsius) for at least eight hours after disconnecting the power. The device does not need to be connected to the electricity network or water supply during use. You can go wherever you wish.
There are versions with a 300 litre and 600 litre storage tanks as well as a small Garden version with a 25 litre water tank.
Using water allows great penetration into the soil, allowing successful treatment of perennial plants with more established root systems in many situations. The rule of thumb is that 2–2.5 litres of hot water is needed per square metre in areas with 100% greenery coverage. This means that 300 litres of water is enough for 100–150 green square metres.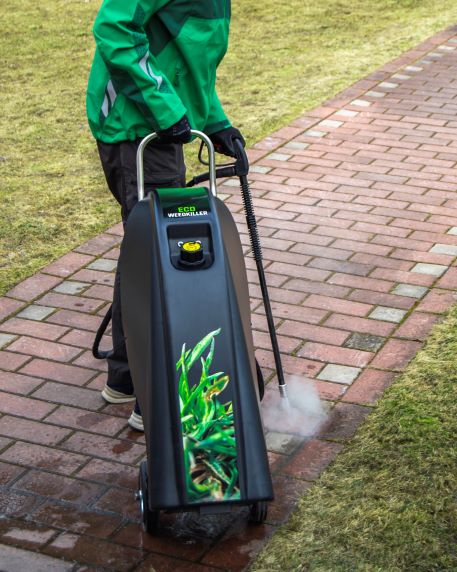 The water in Pro SP products has two purposes: to transmit heat to the plants to be killed and to STORE energy. Water is an affordable "battery" compared to traditional electric batteries. The heating is done with electricity, but you can choose the method used for generating the energy needed, which helps decrease environmental impact. The device can be connected directly to solar panels, for example to heat the water.
The Eco Weedkiller Pro SP series can utilise preheated water at temperatures between 5–80 degrees Celsius. The traditional devices based on diesel-run heaters cannot offer the same advantage, requiring cold water to be heated by the machine as it is being used.
The Eco Weedkiller products are nearly silent in operation, only the hiss of the nozzle lets the user know that the water is hot enough for weed control. Pro SP is an excellent choice for sites where noise could be disruptive: now you can enjoy your early summer mornings in silence!
Take a Look at the Eco Weedkiller page for more information.
---