Can I use my Ripagreen to Kill Weeds in the Rain?
Do you want to weed your green spaces, but the rain is stopping you? Find out what can make weeding in the rain difficult, and why you can use your Ripagreen even in bad weather.
---
Weeding in the rain is now possible thanks to Ripagreen technology.
WEEDING IN THE RAIN: GOOD OR BAD IDEA?
Rain is often a big obstacle for weeding and maintenance of green spaces. Indeed, for several reasons, it blocks the possibilities of weeding and represents a problem for professionals or private individuals whose aim is to maintain their green spaces. The Ripagreen development teams have developed a technology that allows weeding in the rain or in particularly wet areas.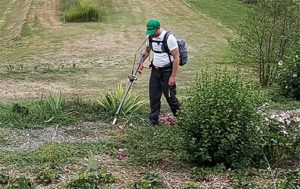 WHAT MAKES WEEDING IN THE RAIN DIFFICULT?
Rain drops are a problem for weeding periods and this can be explained by several factors.
Firstly, the application of a weed-killer to plants does not really work in the rain. This is because the product cannot adhere to the plants because of the water and will simply slide off the leaves without having any effect on the plants that you want to see disappear. This can also contribute greatly to ground pollution.
Secondly, weeding with an electric tool represents a major risk for the user. Water is conductive and can give you an electric shock of varying strength depending on the power of your tool. This represents a risk that it is safer to avoid.
USING YOUR RIPAGREEN IN THE RAIN IS POSSIBLE :
Ripagreen's development teams have therefore taken these factors into account and have developed a technology that works in the rain first, and then ensures maximum safety.
Our thermal weed eaters work with our patented 'short, rigid flame' technology. This means that the flame propelled by our product is straight and resistant to external phenomena such as rain, wind or cold. It also raises the internal temperature of the plant high enough to destroy its internal cells and thus make it disappear and prevent its regrowth later.
Thus, opting for Ripagreen technology is to ensure maximum efficiency and safety regardless of the weather! Do not hesitate to contact us for more information, one of our advisors will answer your questions.
For much more information on weed prevention please take a look at our new Weed Prevention Guide for the Amenity Sector
You should also check out our 4 step plan to phase out glyphosate.
For more information on reducing or eliminating your reliance on chemicals to deal with weeds, please get in touch.
---