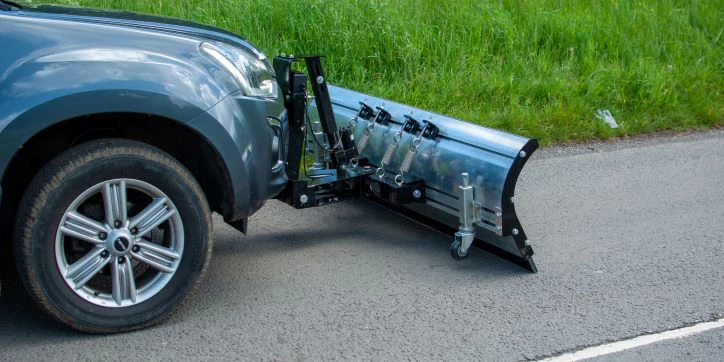 Light Weight Professional Snow Ploughs for your 4x4 or Utility Vehicle
Introducing the Faulkner Brothers Plough Range: Unleash the Winter Warrior in Your 4x4 or Utility Vehicle!
Picture this: a winter wonderland draped in pristine snow, and you, behind the wheel of your trusty European 4x4, fearlessly slicing through the frozen terrain. Meet your secret weapon – the Faulkner Brothers Plough, purpose-built to take on the iciest challenges with ease.
Crafted with precision and passion, our ploughs are not your run-of-the-mill add-ons. We've meticulously designed every aspect from the ground up, tailoring each feature to fit your 4x4 like a glove. With a professional Aluminium blade at its core, this tough beauty guarantees top-notch performance, ensuring you dominate even the most treacherous winter conditions.
But there's more to our story than just strength and power. Sustainability lies at the heart of our brand, and we're proud to be trailblazers in eco-conscious engineering. Supporting our local community, we collaborate with nearby companies for as many components as possible, boosting regional growth while reducing the miles our ploughs travel. Because when we preserve the planet we love, it's a win-win for everyone.
And speaking of a lighter impact, our ingenious engineering keeps the weight and materials of our ploughs to a minimum. Say goodbye to excessive drag and fuel consumption – we've got your back and Mother Nature's, too!
Gone are the days of compromising on performance or the environment. Embrace the Faulkner Brothers Plough Range and witness the harmony of power and responsibility like never before. Let the snowstorms come; you're now armed with the ultimate winter-busting ally, ready to take on the world with grit and grace.
Join the movement, and let's drive towards a greener, snow-filled adventure together. The Faulkner Brothers Plough Range – Where Sustainability Meets Superiority!
Faulkner Brothers Frequently Asked Questions
How Do Faulkner Brothers Ploughs attach to the Vehicle
The Faulkner Brothers Ploughs are all made with a standard height adjustable 2 inch receiver system, which is adaptable to different vehicles. This can be bolted at different heights to suit a corresponding 2 inch receiver usually fitted as a front towbar. This is a standard fixture on many utility vehicles and we provide front tow bar brackets for a range of pickups and other 4x4's on the market in the UK.
Using this system, the Plough can be connected with just a sigle pin, making it extremely simple to fit.
How are the ploughs powered?
The Ploughs are powered via a 12 volt battery. On the larger 4x4 ploughs this utilises the vehicle battery and altenator. The electric actuators require a lower current than the typical electro hydraulic systems used on ploughs for pickups drawing a maximum of 28 amps rather than a typical 150 - 200 amps required for an electro hydraulic system. This means that your vehicle battery and altenator will be taxed far less, which protects all the systems on your truck.
The Ploughs for Utility vehicles have a built in battery pack, which can is charged through a connection port. This completely removes the load on your vehicles battery system, saving the power for other functions.
Are the Faulkner Brothers products Environmentally Friendly?
The short answer is yes. But this is subjective.
We have designed the plough with sustainability in mind as much as possible.
The plough blade is built with extruded Aluminium, which saves a lot of weight. This in turn uses less fuel to transport compared to heavier steel blades, whether on your truck, or in transit from the factory to yur door.
As many of our suppliers as possible are very local to us, which reduces the transport of each component. This saves a huge amount of associated pollution from tranporting goods all around the world, whilst ensuring we get the highest quality components, which will have a longer lifecycle.